Upgrade Home Cookin Recipe Software
Your Home Cookin purchase includes free upgrades for one year. Follow the instructions below to determine if you are eligible. If you choose not to upgrade after the one year period, you may continue using your current version indefinitely. While I encourage all users to use the most recent version, your existing version will never expire.
The current version 9.71 was released Dec 04, 2017 - What's New?
Amazon Customers:
The software sold on Amazon ships with a generic registration. If you purchased Home Cookin from Amazon,
please wait 2 weeks
then
contact me
with your order information. I will send you a new registration code so you can receive your one year of free upgrades.
Step 1: Find your registration date
Version 6.45 and later: Click the
About
button in the title bar.
Version 5.4 to 5.9: Click the
Help
tab.
Version 5.0 to 5.3: Click the
About
button in the title bar.
Version 4.9 or earlier: Click the
Setup
tab.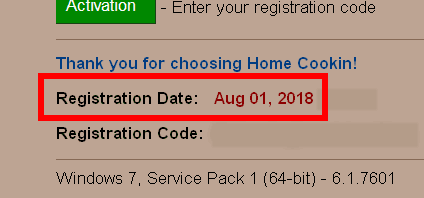 Step 2: Determine Eligibility
If your registration date is
LESS
than one year old, you may upgrade for free (Proceed to the next step).
If your registration is older, you must renew your registration to use the new version.
A new registration code will be emailed to you promptly (upgrades do not include a CD or any additional recipes):
Step 4: Transfer Your Recipes (If needed)
Home Cookin will normally transfer your recipes from your old version automatically. You should only perform this step if your recipes are not listed in the Index after upgrading.
Click the Index tab. If your recipes are already listed in the index, stop here. Your upgrade is complete.

Proceed with the following steps only if you do not see your recipes in the index.
Click the Options tab.
Click the Restore button.
Click the Search button. Home Cookin will scan your hard drives for older installations.
Select the folder you want to restore your recipes from, then click the OK button.
When you are confident everything is working well in the new version, you may uninstall any old versions using the "Uninstall a Program" applet in Windows control panel ("Add or Remove Programs" applet on Windows XP).