About Us
About Mountain Software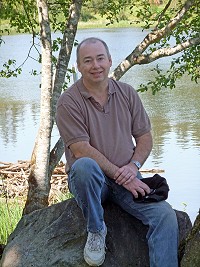 Hi, thanks for visiting! I am Anthony Watson, the owner and operator of Mountain Software. I grew up in southern Illinois, but have lived in beautiful Washington state most of my life.
I studied electronics in college and worked in that field until our daughter was born in 1989. During my unexpected role as "Mr. Mom", I quickly combined my love of cooking with my interest in computers, and wrote my first recipe application in 1991.
I founded Mountain Software in 1992 following the release of "The Recipe Box" for the Atari ST computers. In the years that followed, I also created recipe programs for the Commodore Amiga and Apple Macintosh. I released the first version of my Home Cookin recipe software in 1996. Today I develop exclusively for Windows and continue to improve my recipe software, and other applications.
I believe computer programs should be easy to use, and not overwhelm users with features most people will never need. My products are designed with this goal in mind.
My family and I use these products every day, and I hope you enjoy them as much as we do. If you feel something is difficult or confusing, please let me know. Many of the features in my software were based on customer feedback.
Take care, God bless, and Thank You for your support!
Anthony Watson
Email Me
Privacy Policy
We will never gather personal information without your permission.
We will never share or sell the personal information you provide to Mountain Software.
We do not store your personal information online where it could be hacked.
Requested Information
- We collect your name, mailing address, email, and phone number on the order form when you purchase our products or subscribe to our services. This information is used for shipping, billing, and activating your software. We also refer to this information if you need to replace a lost code, request an upgrade, or need other customer support.
Credit Card Information
- We use third-party e-commerce providers (FastSpring and PayPal) to process credit card purchases. These processors use SSL and other security encryption technologies to prevent unauthorized access to your personal information. Your credit card information is not accessible by Mountain Software.
Email
- We never send unsolicited emails. The only times we will contact you are:
Replying to a question or comment you contacted us about.
Sending your registration and order information after purchasing our products.
You subscribed to our Newsletter. The newsletter is only sent a few times a year and may be canceled at any time.
Responding to a survey you completed.
External Links
- We may link to other web sites that we feel would be beneficial to our visitors. These links are provided for your convenience and are not intended as an endorsement. We have no control over the content or privacy policies of external web sites. If you discover a link to objectionable content on our web site, please contact us so we can remove the link.